RULES

4th 360° CIRCUIT FOR GLOBAL PHOTOGRAPHY 2023
INTERNATIONAL EXHIBITION OF PHOTOGRAPHY
Conditions of Entry(参赛规则)
Summary(概要)
1、EXHIBITION NAME(比赛名称):
4th 360° CIRCUIT FOR GLOBAL PHOTOGRAPHY 2023
2023第四届全球摄影360°巡回赛
4th 360° CIRCUIT FOR GLOBAL PHOTOGRAPHY 2023 exhibition is with the patronage of the and conducted under the approved rules of the Photographic Society of America(PSA 2023-530) and WORLD PHOTOGRAPHY UNION(WPU[2023]165),All awards and acceptances obtained in this salon will be taken into account for PSA Star Rating listings in the worldwide PSA Who,s Who of Photography and credited for PSA and WPU Distinctions.
2023第四届全球摄影360°巡回赛由美国摄影学会(PSA 2023-530) 和世界摄影联盟(WPU[2023]165)认证并在其批准的规则下进行,在此沙龙的所有获奖和入围作品,都将被纳入全球 PSA 摄影名人录中的 PSA 星级评定名单,并获得 PSA 和 WPU 的荣誉和名衔。
The Circuit is open to photographers all over the world. This is a digital image Circuit.
这是一个数码摄影巡回赛,该比赛向全世界的摄影师开放。
2、CORRESPONDENCE & ENQUIRIES TO(联系):
ORGANIZER(主办单位)
World Photography Union of Hong Kong(WPU)/ 世界摄影联盟
Jing-Chen Photography Center of China(JCPC)/中国晶宸摄影中心
HUANGJIU Photo Painting of China(HJPP)/中国凰九影画
China International Photographers Association of Hong Kong(CIPA)/ 国际摄协
Exhibition Chairman :Mr. Feifei Peng.
Building 10, Fuji Century Park, Wangcheng District, Changsha City, Hunan Province, China
Chairman Email: 732710600@qq.com
Exhibition Email: cipa-photo@qq.com
Phonenumber:15974141480
Salon Secretary : Xiaohua Mian
Salon Treasurer : Chunlin Zou
Rules & Submission: http://www.wpu-photo.org/
沙龙官网:http://www.wpu-photo.org/
3、SECTIONS(组别)X 4 :
A. Color Open (Only Color) (PID Color) 彩色自由组
B. Mono Open (Only mono) (PID Mono) 单色/黑白自由组
C. Nature (Color/Mono) (ND)自然组(彩色/黑白)
D. PhotoJournalism (Color/Mono) (PJD)新闻组(彩色/黑白)
E. China (Color/Mono) (Not recognised by PSA) 中国组(彩色/黑白)
4、ENTRY FEES (报名费)
1-5 Section USD $ 40.00(¥260 CNY)
Group Entries - Discount Rates (% of Total Fee): 团体折扣率
More than 5 Entrants: 10 % (5人以上10%折扣)
More than 10 Entrants: 20 % (10人以上20%折扣)
Entry fee is mandatory for every participant. Entry fee can be paid with PayPal through our web site.PayPal:497930342@qq.com
参赛者必须缴纳报名费,报名费可以通过我们的网站与贝宝支付。PayPal:497930342@qq.com
Chinese photographers please directly scan the QR code of WeChat or Alipay to pay in CNY.
中国摄影师参赛请直接扫描微信或支付宝二维码以人民币的方式支付。
NON PAYMENT OF FEES (未付费)
Entries for which no fee is received will not be judged.
未付费的参赛作品将不交给评委评选。
5、CALENDAR(日程):
Closing Date(截稿): 2023 / 11 / 01
Judging(评选): 2023 / 11 / 05-10
Notification emails sent(结果通知): 2023 / 11 / 25
On-line gallery(在线展览): 2023 / 11 / 25
Catalogues & awards sent(目录/颁奖): 2024 / 01 / 03
6、JURY(评委):
① WPU Salon
Dany Chan(GMPSA,EFIAP)(Canada)
DEWEN HU(GCWPU/1,CPA,CIPA)(China)
NENG YANG(GCWPU/1,CIPA)(China)
② JCPC Salon
POPO PENG(QPSA, GCWPU/1)(China)
DEJUN XU(GCWPU/1,CIPA)(China)
FAN QIN(GCWPU/1,CPA,CIPA)(China)
③ HJPP Salon
YUANMENG CHEN(QPSA,GCWPU/1)(China)
CHUNLIN ZOU(GCWPU/1,CIPA)(China)
DONGQIAO YANG(GCWPU/1,CPA,CIPA)(China)
④ CIPA Salon
YAN LONG(QPSA, WPU/c3,MWPU/b)(China)
YUXUAN CHEN(GCWPU/1,CIPA)(China)
ZHAN SUN(GCWPU/1,CIPA)(China)
7、AWARDS (奖项):540+
The awards will be adjusted in proportion to the total number of participating images. New images are encouraged to enter. All awards and Acceptance in PSA-recognised SECTIONS count towards PSA-EDAS.
奖项将根据来搞总数按比例进行调整。鼓励新作品投稿。所有经PSA认证的奖项和入围都计入PSA数据库。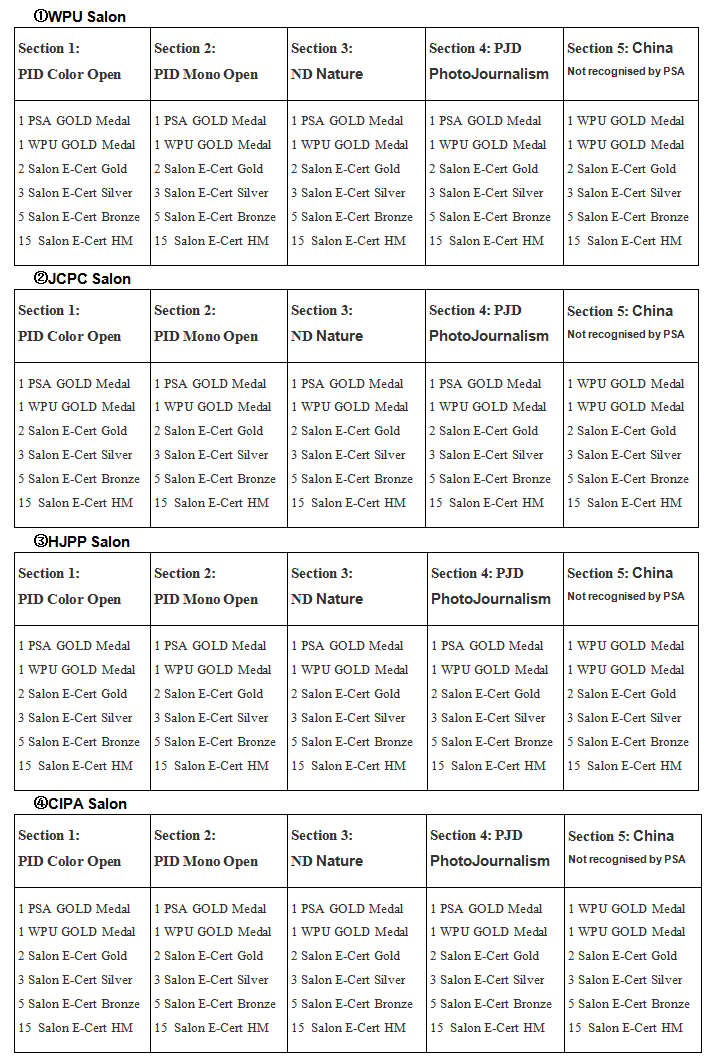 8、CATALOGUE and E-Cert (目录和证书):
Online PDF Catalog(Downloadable)
在线PDF目录(可下载)
After the results of the Circuit are announced, all contestants are asked to log on to the website to download the E-Cert. The E-Cert is only kept on the website for one year.
比赛结果公布后,请各位参赛者自己登录网站下载证书,证书在网站只保留一年。
CONDITIONS OF ENTRY
ENTRIES
IMAGE AND ENTRY REQUIREMENTS This exhibition is open to anyone; however, an entry may be rejected when the Sponsor or the Exhibition Organizers, in their reasonable discretion, believes the entry does not conform to exhibition rules and these Conditions of Entry. Membership in any photographic organization is not required.
Penalties: Entries will not be accepted from any entrant who has put on the PSA Penalties List for Ethics Violation. Entry fees are not refundable in these circumstances
PSA Star Ratings
To receive proper Star ratings credit from PSA, entrants must provide their names and country exactly the same way in each exhibition. Aliases are not permitted. Please contact PSA in the event of name changes or relocating to another country. Using one's name differently in different exhibition exposes the entrant to the risk that many of their acceptances may not be recognized by PSA Star Ratings.
Image Creation
Entries must originate as photographs (image-captures of objects via light sensitivity) made by the entrant on photographic emulsion or acquired digitally.
Certification:
By virtue of submitting an image, the entrant certifies the work as his or her own. Images may not incorporate elements produced by anyone else (for example: clip art, images or art by others downloaded from the Internet). Aliases are not allowed.
Reproduction
The entrant permits the sponsors to reproduce all or part of the entered material free of charge for publication and/or display in media related to the exhibition. This may include low resolution posting on a website. The Photographic Society of America (PSA) may request specific permission from entrants to reproduce entered images in its educational materials. The terms of that permission will be mutually agreed between the entrant and PSA except in the circumstances where the entered image is found to breach the PSA Ethics Policy. In those circumstances the image may be reproduced by PSA, without the entrant's further permission, for educational purposes to illustrate serious exhibition rule violations. For those reproductions, the entrant's name will be withheld.
Entries will not be accepted from entrants who indicate that their images may not be reproduced in materials related to the exhibition." The exhibition assumes no liability of any misuse of copyright
Alteration and Computer Generation Subject to Divisional restrictions (particularly Nature, Photo Travel, and Photojournalism) images may be altered, either electronically or otherwise, by the entrant; adjustments to enhance images or creatively modify images are allowed providing the underlying photograph is retained in a way that is obvious to the viewer. Images may not be constructed entirely with a computer, and must be the sole work of the entrant
Re-use of accepted images: Any image that has been accepted in this exhibition, past or present, may not be entered again in the same Division Star Ratings Class in any future instances of this exhibition. It may, of course, be entered in any other PSA recognised exhibitions but must always have the same title. Re-titling in another language is not allowed.
Entry: An Entry consists of, up to and including, four (4) images entered by a single entrant into the same Section. An entrant may only enter a specific Section once. Entrants may not enter identical or similar images into the same section or different sections of the same exhibition.
Titles:
Each image must have a unique title that is a description of the image. That unique title must be used for entry of that image or of an identical Image into any and all PSA-Recognized exhibitions. Titles must be 35 characters or fewer. No titles may be visible to the judges, and nothing in the image may identify the entrant. Titles may not include file extensions such as .jpg or .jpeg (or any other camera capture filenames such as IMG 471). Titles may not consist of personal identifiers possibly augmented by a number; or include words such as "untitled" or "no title". Titles may not consist solely of numbers unless those numbers are prominently contained within the image, such as a contestant number in a race.
Color and Monochrome:
Color and Monochrome images from the same capture that share substantial pictorial content in common will be considered the same image and must be given the same title.
PHOTOS SIZE(作品规格)
File: Maximum 1920 pixels on the horizontal side, Vertical size maximum 1080 pixels,Maximum 2 MB, JPEG, RGB/sRGB,Resolution: 72-300 dpi .
作品必须为jpg文件格式,最大水平长度1920像素 / 最大垂直长度1080像素(1920×1080),单幅作品的文件大小不得超过2MB,颜色:RGB / sRGB,分辨率:72-300 dpi 。
The Exhibition will be conducted in accordance with the rules of the PSA
An entrant's images will not be presented to the judges consecutively. An entrant's four images will be distributed throughout four rounds of judging in that section. Distribution of images will be in the same round order as submitted by the entrant. At no stage will a judge be able to view all the entrant's images together.
An image may be entered in only one section.
Each entrant may submit a maximum of four images in each of the 5 sections.
每位参赛者最多可在5个组中的每一组提交四张作品。
Method of Judging:The selection of accepted images will be conducted online through the competition website "http://cipa.sychina.net/org/".It is required that the monitor of each judge must go through standard color calibration and have a resolution of not less than 1920X1080pix to ensure that the image can be displayed on the screen 100%.Also photos will be published in http://cipa.sychina.net/org/.
Acceptance range is 29% to 35%.
DATA PROTECTION
By entering this exhibition, you are explicitly consenting to the personal details you have supplied, including physical addresses, email addresses, being held, processed and used by the exhibition organizers for purposes associated with this exhibition. You also explicitly consent to such information being sent to organizations that have accorded official recognition, patronage or accreditation to this exhibition. You acknowledge, agree and accept that by entering this exhibition, your participation status which includes your first and last name, name of the country used during registration at the exhibition, number of sections entered and number of photos entered in those sections will be made public in a published status list and that the results of your entry shall be made public in exhibition gallery, exhibition catalog. You also agree and accept the policy regarding Breaches of Rules of the PSA.
SUBJECT MATTER AND SECTION DEFINITIONS
Statement on Subject Matter - applicable to all sections
The fundamental rule that must be observed at all times and applies to all sections offered in exhibitions with PSA recognition is that the welfare of living creatures is more important than any photograph. This means that practices such as baiting of subjects with a living creature and removal of birds from nests, for the purpose of obtaining a photograph, are highly unethical, and such photographs are not allowed in any exhibition with PSA recognition. Under no circumstances may a living creature be placed in a situation where it will be killed, injured or stressed for the purpose of obtaining a photograph. Images that show live creatures being fed to captive animals, birds or reptiles are not permitted under any circumstances.
There are also concerns about the use of aerial photography, drones, helicopters, low flying aircraft. These should not cause any interference with other individuals or animals which causes a disturbance in their normal activity or disrupt the way any individuals or animals interact with their environment. Entrants in PSA recognized exhibitions should comply with all relevant laws and regulations, associated with aerial photography, in the country in which the image was taken.
Entry into PSA recognized exhibitions is conditional on accepting these policies. The content of images must comply with the General Conditions and with the Division and Section definitions listed in these conditions. Images that - in the sole opinion of the judges or the Exhibition Organizers - do not comply, will be disqualified so the entrant may be aware of the problem when considering entry into other exhibitions with PSA recognition
PSA Monochrome Definition
An image is considered to be Monochrome only if it gives the impression of having no color (i.e. contains only shades of grey which can include pure black and pure white) OR it gives the impression of being a greyscale image that has been toned in one color across the entire image. (For example by Sepia, red, gold, etc.) A greyscale or multi-colored image modified or giving the impression of having been modified by partial toning, multi-toning or by the inclusion of spot coloring does not meet the definition of monochrome and shall be classified as a Color Work. Monochrome images may not be entered in Pictorial Prints or PID Color sections.
For the purpose of this exhibition, only greyscale images are allowed in monochrome sections. Toned images are not allowed
Greyscale Monochrome images may be entered for Nature, Photojournalism and Photo Travel but toned images are not permitted for these sections.
Editing Guidelines for Nature and Photojournalism
These sections require images to be truthful records, so there are limits on the amount of manipulation allowed.
Editing Guidelines
Processing or editing must be limited to making the image look as close to the original scene as possible, except that conversion to grayscale monochrome is allowed.
Allowed editing techniques:
· Cropping, straightening and perspective correction.
· Removal or correction of elements added by the camera or lens, such as dust spots, noise, chromatic aberration and lens distortion.
· Global and selective adjustments such as brightness, hue, saturation and contrast to restore the appearance of the original scene.
· Complete conversion of color images to grayscale monochrome.
· Blending of multiple images of the same subject and combining them in camera or with software (exposure blending or focus stacking);
· Image stitching – combining multiple images with overlapping fields of view that are taken consecutively (panoramas);
Editing techniques that are not allowed:
· Removing, adding to, moving or changing any part of an image, except for cropping and straightening.
· Adding a vignette during processing.
· Blurring parts of the image during processing to hide elements in the original scene.
· Darkening parts of the image during processing to hide elements in the original scene.
· All conversions other than to complete grayscale monochrome.
· Conversion of parts of an image to monochrome, or partial toning, desaturation or over-saturation of color
For the purpose of this exhibition any border added to a digital file must be a single border of white or grey, no greater than 3-5 pixels in width.
PSA Nature Definition
Content Guidelines
· Nature photography records all branches of natural history except anthropology and archaeology. This includes all aspects of the physical world, both animate and inanimate, that have not been made or modified by humans.
· Nature images must convey the truth of the scene that was photographed. A well-informed person should be able to identify the subject of the image and be satisfied that it has been presented honestly and that no unethical practices have been used to control the subject or capture the image. Images that directly or indirectly show any human activity that threatens the life or welfare of a living organism are not allowed.
· The most important part of a Nature image is the nature story it tells. High technical standards are expected and the image must look natural.
· Objects created by humans, and evidence of human activity, are allowed in Nature images only when they are a necessary part of the Nature story.
· Photographs of human-created hybrid plants, cultivated plants, feral animals, domesticated animals, human-created hybrid animals and mounted or preserved zoological specimens are not allowed.
· Images taken with subjects under controlled conditions, such as zoos, are allowed.
· Controlling live subjects by chilling, anaesthetic or any other method of restricting natural movement for the purpose of a photograph is not allowed.
Attention is drawn to the PSA Statement on Subject Matter which applies to all sections and to the Editing Guidelines for Nature, Photojournalism and Photo Travel
PSA Photojournalism Definition
Photojournalism entries are images with informative content and emotional impact, reflecting the human presence in our world.
Content Guidelines
· The journalistic (story-telling) value of the image should receive priority over pictorial quality.
· Images that misrepresent the truth, such as those from events or activities arranged specifically for photography, or of subjects directed or hired for photography, are not eligible.
· A number of images (typically 2-4), each with a small white border, may be combined into a single image that depicts a progression of events or related activity. The individual images should be surrounded by 5 pixel or smaller white borders/. The arrangement of the images should assist the sense of progression.
Attention is drawn to the PSA Statement on Subject Matter which applies to all sections and to the Editing Guidelines for Nature, Photojournalism and Photo Travel
WPU China Definition(This section is not recognized by PSA)
There are no restrictions on photography themes, techniques, and expression mediums, but they must be sourced from China. The content of images must comply with Chinese laws and regulations. Image submissions that reflect racial discrimination, violence, fraud, pornography, crime, and violations of human customs and morals are prohibited. There must be no logos, watermarks or borders that identify the entrant.
The above category, section or class is not recognized by the Photographic Society of America and any acceptances will not count toward PSA Star Ratings, Who's Who, Distinctions, etc.
摄影主题、技法、表现介质等没有限制,但必须取材于中国,图像内容必须遵守中国的法律法规,禁止反映种族歧视、暴力、诈骗、色情、犯罪以及违背人类习俗道德的图像投稿。画面中不得有任何能够识别参赛者的标记、水印或边框。
Breaches of Rules
Entrants are strongly advised to look at the PSA Ethics Policy which can be found at https://psa-photo.org/page/ethical-practices.
If, at any time, it is determined in the reasonable discretion of the exhibition organizer or the judges before, during, or after the judging of an exhibition that an entrant has submitted entries where one or more images may fail to comply with these Conditions of Entry, including the stated definitions, exhibitions, on behalf of the judges, are allowed to request unedited or raw files of the submitted image
In order to ensure that images comply with the Conditions of Entry and definitions, the exhibition organizers may carry out reasonable measures to verify that:
a) the images are the original work of the entrant and
b) the images comply with the rules and definitions as set out in these Conditions of Entry
These steps include, but are not limited to, questioning any entrant, requiring the submission of RAW files or other digital files representing the original capture of the submitted image(s), confronting the entrant with evidence that one or more submitted images fails to comply with the Conditions of Entry (also known as Entry Rules), and offering the entrant a reasonable opportunity to provide counter evidence to refute the exhibition organizer's evidence by a set deadline. Such entries that are not cleared or are still questionable after the entrant has presented evidence may be considered in breach of these Conditions of Entry, and declined. Such entries may be referred to PSA for further investigation of possible ethics violations
PSA, on receiving reports from exhibitions of possible breaches, retains the right to investigate in any way all complaints/suspicions of breaches of entry conditions, impose penalties if deemed necessary, void the acceptances of any image found to violate the PSA rules, include the entrant's name on the list of sanctions provided to Exhibitions, and share such investigations with FIAP. Entrants automatically agree to these terms by the act of entering the Exhibition and agree to cooperate with any investigation.
If another party is submitting images on the entrant's behalf, the entrant will still be held responsible for adhering to these Conditions of Entry (Entry Rules) and will be subject to penalties for any violations to these Conditions of Entry and PSA's Statement of Ethics that may result.
If another party is processing images for an entrant or submitting images on the entrant's behalf, the entrant will still be held responsible for adhering to all Conditions of Entry including the specific conditions in the relevant definitions.
NOTICE: When entrants fills in the Entry Form to submit an entry they will see the following feature to affirm they have read these Conditions of Entry
"I hereby confirm that I have read, understood and agree to the Conditions of Entry of this exhibition. I have read the PSA document to be found at https://psa-photo.org/resource/resmgr/pdf/exhibitions_/exhibition-entrants-agreemen.pdf . I am aware that PSA may apply penalties for breaches of these Conditions of Entry"
Failure to agree will mean that the application will not proceed.